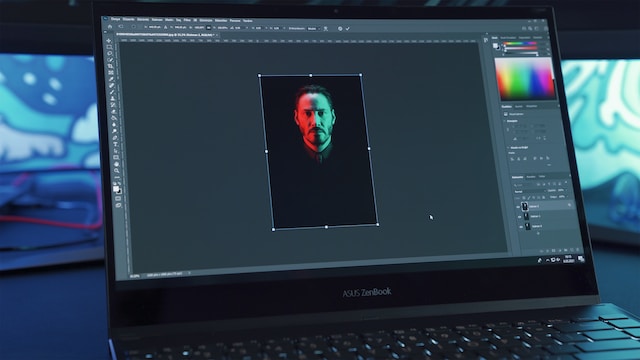 In the digital age, photography has become an integral part of our lives. Whether you're a professional photographer, a budding enthusiast, or simply someone who loves capturing moments, the tools you use to edit and enhance your photos play a crucial role in achieving stunning results. Enter the world of AI photo editors, where advanced technology meets creative vision, transforming ordinary images into extraordinary works of art.
In this article, we will delve into the realm of AI-powered photo editors and explore the best options available in the market. Among these exceptional tools, we will shine a spotlight on HeyPhoto, a rising star in the world of photo editing. So, whether you're looking to up your photography game or simply want to elevate your Instagram feed, read on to discover the best AI photo editors at your disposal.
The Rise of AI in Photo Editing
Artificial Intelligence (AI) has made remarkable strides in recent years, permeating almost every aspect of our lives. In the realm of photography, AI has revolutionized the way we edit and enhance images. Traditional photo editing software, while still valuable, often requires a steep learning curve and substantial time investment. AI photo editors, on the other hand, offer a more accessible and user-friendly approach.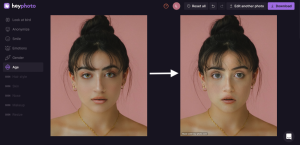 AI-driven photo editors leverage machine learning algorithms to automatically detect and correct imperfections, enhance colors, and apply artistic filters with incredible precision. They can analyze and understand the content of an image, making intelligent decisions about which adjustments will yield the best results. This level of automation not only speeds up the editing process but also opens up a world of creative possibilities for photographers of all skill levels.
Criteria for Selecting the Best AI Photo Editors
Before diving into the best AI photo editors, it's essential to understand the criteria used for evaluation. Here are some key factors to consider when selecting the right tool for your needs:
a. User-Friendliness: A good AI photo editor should be easy to use, even for beginners, with a user-friendly interface and intuitive controls.
b. Editing Features: The software should offer a comprehensive set of editing features, including basic adjustments like cropping and exposure, as well as advanced options such as retouching, object removal, and artistic filters.
c. AI Capabilities: The strength of AI algorithms is a crucial factor. The AI should be capable of intelligently enhancing photos while preserving their natural look.
d. Speed and Performance: Photo editing should be a smooth and lag-free experience, even when dealing with high-resolution images.
e. Integration: Compatibility with popular platforms and devices is essential, allowing users to edit photos seamlessly across various devices.
f. Cost: The pricing structure should be transparent and offer value for the features provided.
Top AI Photo Editors in 2023
Now, let's explore some of the best AI photo editors available in 2023, starting with HeyPhoto.
a. HeyPhoto
HeyPhoto is a relatively new player in the AI photo editing arena, but it has quickly gained attention for its impressive capabilities. With an intuitive interface designed for both beginners and professionals, HeyPhoto makes photo editing a breeze.
One of the standout features of HeyPhoto is its AI-powered enhancement tools. The software can intelligently analyze your photos and make automatic adjustments to improve colors, sharpness, and overall image quality. Whether you're dealing with landscape shots, portraits, or product photography, HeyPhoto's AI can adapt to your specific needs.
The retouching and object removal tools in HeyPhoto are also noteworthy. You can effortlessly remove unwanted elements from your photos, such as blemishes on portraits or distracting objects in scenic shots. This feature simplifies what used to be a time-consuming and intricate task.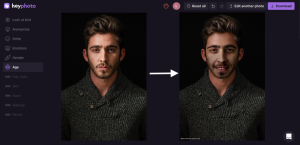 HeyPhoto's pricing structure is flexible, with options for both free and premium plans. The free plan provides access to basic editing features, while the premium plan unlocks the full potential of HeyPhoto, including unlimited AI enhancements, advanced retouching, and priority customer support.
b. Adobe Photoshop Express
Adobe Photoshop Express is a stripped-down version of the legendary Photoshop software, designed for quick and easy photo editing. While it doesn't offer the full range of features found in its big brother, it's an excellent choice for those looking for a user-friendly yet powerful editing tool.
The app features a variety of one-tap filters and effects that can transform your photos with a single touch. Its AI-driven features include automatic cropping, straightening, and red-eye removal. Additionally, it offers cloud storage and synchronization across devices, making it convenient for users who switch between computers and smartphones.
Adobe Photoshop Express offers a free plan with basic features, while a premium subscription provides access to additional filters, features, and cloud storage.
c. Pixlr
Pixlr is a web-based AI photo editor that offers a range of features suitable for both beginners and experienced photographers. With its intuitive interface, Pixlr makes it easy to apply filters, overlays, and adjustments to your images.
One of Pixlr's standout features is its wide selection of AI-powered artistic filters and effects. These filters can turn your photos into stunning artworks, giving you creative control over your images.
Pixlr offers a free version with basic editing features and a premium subscription that unlocks advanced tools, additional filters, and removes ads.
d. Luminar AI
Luminar AI is a comprehensive AI-powered photo editing software designed to simplify complex editing tasks. With its innovative AI technology, Luminar AI can automatically detect and enhance different elements in your photos, such as faces, skies, and more.
The software features a range of AI templates that allow you to achieve various looks and moods with a single click. Luminar AI also offers advanced portrait editing tools, making it a favorite among portrait photographers.
Luminar AI comes with a one-time purchase price, and updates are included in the package, ensuring you have access to the latest features and improvements.
Conclusion
AI photo editors have democratized the art of photo editing, making it accessible to everyone, regardless of their skill level. Whether you're a professional photographer looking to streamline your workflow or a hobbyist looking to enhance your vacation photos, there's an AI photo editor that suits your needs.
Among the top contenders, HeyPhoto stands out as a versatile and user-friendly option. Its AI-powered enhancements and retouching tools make it a valuable addition to any photographer's toolkit. Moreover, its flexible pricing plans ensure that you can access the features you need without breaking the bank.
As the world of photography continues to evolve, AI photo editors will play an increasingly significant role in shaping the future of visual storytelling. Embracing these tools can help photographers unlock their creative potential and bring their visions to life like never before. So, whether you choose HeyPhoto or one of the other excellent options mentioned in this article, get ready to embark on an exciting journey of photo editing powered by artificial intelligence. Your images will thank you for it.